THE VERSPIEREN GROUP'S FIGURES
THE VERSPIEREN GROUP'S FIGURES
The Verspieren Group is the Top 1 Insurance brokerage group in France entirely family-held,
granting their clients their guarantee of independence.
And it is among the TOP 5 European insurance brokers.
TOP 5
TOP 5 among the European insurance brokers
Business
€ 380 million turnover
Professionals
2.130 experts at your service
Countries
The Verspieren International Global Network is in 135 countries
Premiums
€ 4,000 million in premiums
With the purpose of granting a high quiality service to our clients and operating around the world,
THE VERSPIEREN INTERNACIONAL GLOBAL NETWORK was created in the last few years. It operates
inmore than 135 countries, using the strategic partnership with two of the most important
international insurance brokerages like Gallagher y Funk.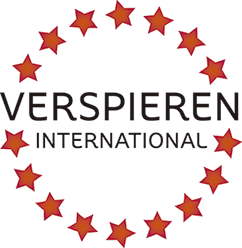 DISTRIBUTION OF THE VERSPIEREN GROUP BILLING
Regarding the insurance line
28% INDIVIDUALS INSURANCE
Rergarding the group of activity
Regarding the type of risk
26% ASSOCIATIONS AND PRIVATE INDIVIDUALS